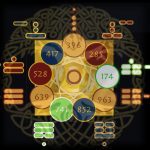 The 9 Primordial Principles, Steps or Levels of Practice
Every training program consist of 9 levels of practice or 9 steps.
The 9 Steps Process has been designed based on scientific research on nature laws, principles and rhythms, and human potential (human factor), and coaching and training programs developed by me, Luis Daniel Maldonado Fonken, since 1987.
Each step belongs to one of the 9 Primordial Principles that if being followed will help humans advance their potential, develop new skills, enhance their performance and quality of living.
A "primordial" principle refers to an "original, natural, essential" principle found in nature or life. The way the tree grows, the seasons change, the water flows, life evolves, follows those patterns and principles. The 9 Principles are explained in more details in publications, e-books and gamified experiential presentations.
Family-Work-Life Balance
Gamified Experiential Training Programs
The 9 Primordial Pandas: Gamified Experiential Leisure Training Program

Focus: Fitness, Stress Management, Body & Emotional Awareness, Burnout Prevention
Content: Inspired by the Pandas, symbol of harmony with nature, strength and vitality.  Find balance through the practice of essential techniques (yoga, martial arts, sensory awareness, conscious breathing, brain gym) combined with a fitness training.
Goal: To achieve body and emotions to work together. Important skills will be developed: Self-regeneration, focus, concentration, endurance, awareness, emotional intelligence and stress release abilities will be developed. You will feel stronger, full of vitality, fit and happier and on top of all loose your extra kilos.
The Sun Dance Theta : Gamified Experiential Leisure Training Program

Focus: Creativity, Communication,  Self-expression, Body & Emotional Awareness, Burnout Prevention
Content:  Learn about the importance of being in contact with your own body and emotions. Utilize your body and emotions for the purpose of solving challenges or advancing your performance (non verbal communication, decision making, emotional intelligence, empathy, prevent burnout). Emotional intelligence will be developed by the practice and exploration into creative self-expression. Dance improvisation, color, sound and form artistic methods are applied in combination with body awareness and gamified  communication and self-expression exercises.
Goal: The training program will bring you by how to utilize creativity and self-expression as for the purpose of development of self-management skills, stress management and prevent burnout.
The 9 Suns : Gamified Experiential Self-Management Training Program

Focus: The menstruation cycle and its influences, and how knowledge about it can change and advance your life, success and wealth.
Content:  The hormonal shifts in women and their impact in their love relationships, self-management, family and business. Hormonal shifts are a cause of  change in performance of the individual in the fields of emotional intelligence, perception, strategic thinking, communication, collaboration, performance.
Goal: The training program will bring you by skills, methods and knowledge necessary in order to  harness the influences of your menstruation cycle. Learn how to benefit from each stage of the cycle: to learn to be free of conflict with the cycle phases and to understand their function will help you advance your performance according to the conditions in every stage of the cycle.
Emotional Time Management in 9 Steps : Gamified Experiential Self-Management Training Program

Focus: Self-Management, Emotional Intelligence, Decision Making, Strategic Thinking, Time Management, Process Awareness, Project Management, Stress Management, Burnout Prevention
Content: The success of the day depends on how you make choices, manage your time, resources and process (design of the day sequence of activities, tasks and experiences). Emotions play a key role in daily life decision making. You will learn about the importance of emotions and how they influence your time management,  project/process management and decision making. Emotions as well change the quality of experience of all activities of your day. It is important to learn to choose wisely the correct sequence of emotions and the associated activities. Methods will be provided that will help you  enhance and utilize your time awareness,  process perception, emotional awareness and emotional intelligence for time management.
Goal:   Thanks to the training you will become able to feel less stressed along the day, more in control of the things you do and capable to add more activities and tasks in your daily schedule without feeling overloaded. Learn to prevent burn out by the daily practice of emotional time management and by becoming more efficient in project management.
Matrix-Q Intelligence: Gamified Experiential Self-Management Training Program

Focus:  Matrix Strategic Thinking, Matrix Perception, Strategy design, Decision Making, Matrix-Q Intelligence, Emotional Intelligence.
Content: Learn how to play and practice games that enhances and advances Matrix-Q. Matrix-Q is sign of the ability to solve challenges by approaching them from several perspectives simultaneously. For example the ability to work in a multidisciplinary team, to integrate several cultural skills,  to study an object from different points of view or to design solutions that integrate many levels of benefits and parallel processes simultaneously. In Mathematics a matrix would do register several variables at the same time and matrix based functions will describe a pattern. In the training program you will learn how to play and practice games that enhances and advances your Matrix-Q Intelligence.
Goal:  To develop Matrix-Q Intelligence by the practice of Matrix-Q Games. To solve problems with higher complexity in your work, or private life, with more calmness, sharpness, self-confidence, emotional clarity. Naturally and with more joy achieve a more broad overview, long term assessment ability, better strategic risk management and develop a synergetic and holistic approach for solving challenges. Become skillful at  managing stress under uncontrollable circumstances, constant changing variables and complex dynamics.