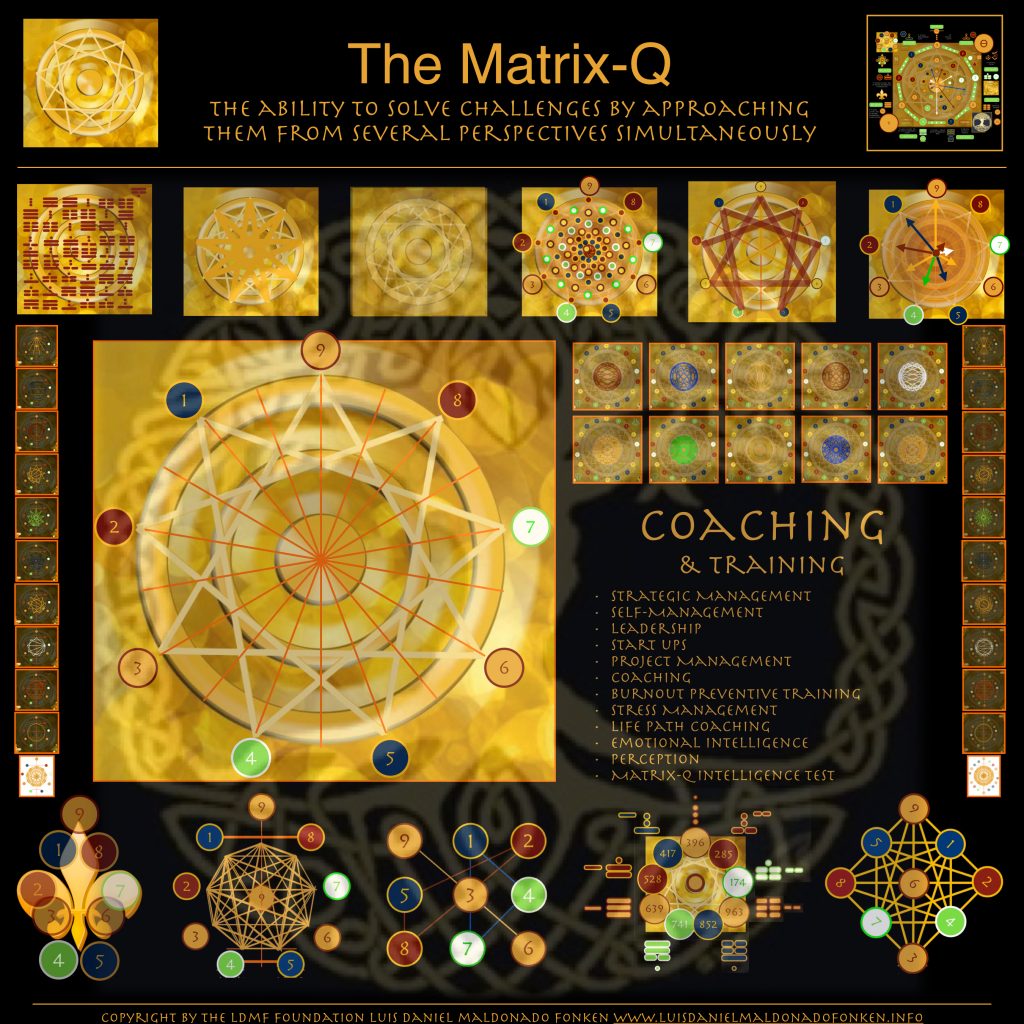 The development of Matrix-Q Intelligence is one of the main aims of the coaching sessions and gamified training programs. The development of the ability to solve challenges by approaching them by several perspectives simultaneously.
Matrix-Q Intelligence Test
A Matrix-Q Intelligence test is the first assessment tools that will be utilized, which combined with customer goals will serve as a guidance for milestones design and follow up of the process necessary for achievement.
More about the Matrix-Q Intelligence Test
Coaching & Training Sessions in One
Combined holistic synergetic activities, which includes use of the body, emotional intelligence, perception, solution design, self-management, stress management, strategic project management skills.
.Strategic Management
.Start ups
.Project Management
.Self-Management
.Leadership
.Emotional Intelligence
.Matrix-Q Intelligence Test
.Burnout Preventive Training
.Stress Management
.Life Path Coaching
Matrix-Q Gamified Challenges
Learning by doing, by playing, by creating, by experiencing.
After customers have completed a foundation training and achieved through coaching stable Matrix-Q Skills, Matrix-Q gamified challenges will given.
The first Matrix-Q Challenges given will be the use of PTT Tools, (Tools for assessment developed based on the study of nature laws, principles, rhythms and cycles, and the human potential). By utilizing these tools, Matrix-Q will be enhanced.
After the basic PTT Tools have been learned, daily life will provide the next series of self-management challenges. The key tools help users develop their matrix perception, thinking, emotional intelligence, strategic management, and project management skills.
Now our customers are ready to face greater challenges with the application of Matrix-Q Intelligence. Project management challenges, related to own profession, or family, community projects/needs. For example: the design of a business plan, or of a new product, the organization of an event for the family or neighborhood, or even the start up of a new company or project, for profit or not for profit.
The design of a project followed by the holistic and synergetic implementation of it, with humanist and visionary approach is one of the goals the Matrix-Q Coaching program has, as for achievement suggested to its customers.
For more advanced Matrix-Q users, the design and implementation of primordial algorithms, would be the next stage. www.primordial-algorithms.luisdanielmaldonadofonken.info
BACKGROUND KNOWLEDGE
Luis Daniel Maldonado Fonken has been dedicated to the human potential private research since 1993. The Matrix-Q Intelligence is one of the achievements, results of his research work and know how development. The Matrix-Q Tools have been utilized for consultancy, training and coaching on strategic business management, self-management, leadership, governance, change management, technology innovation, scientific research, culture development, since 1993.  (More about research background)
Currently the LDMF Foundation develops scientific research and technology innovation by utilizing Matrix-Q Tools (PTT Tools), and by providing training to researchers and customers on Matrix-Q Skills.