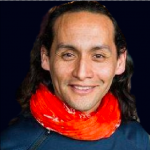 About Luis
Coach, Trainer, Consultant: Self-Management, Leadership, Strategic Management & Governance
Trainer: Martial Arts, Meditation, Yoga, Meditative Performing Arts, Emotional Self-Management, Non-Violence
Developer of the PTT (Primordial Technology Theta) Assessment & Training Methods.
Researcher Matrix-Q Intelligence: The ability to solve challenges by approaching them from several perspectives simultaneously.
Services Provided
Assessment, evaluation of the current condition, challenges being faced or that will be faced, patterns and tendencies of perception and behavior and their influence in the performance, identification of risks.

Matrix-Q Intelligence Test, Matrix Perception, Matrix Thinking, Matrix-Response Ability, Matrix-Q Impact, Matrix Decision Making & Matrix Strategic Project Management ability.

Goals setting, strategy design, decision making limitations, strategic risk management.

Identification of solutions necessary for the management of the process and risks: from learning to learn abilities, to enhancement of perception, sensitivity, learning of methods or practices, development of skills, learning of new technologies, knowledge, information and others.)

Provide training according to case, if available and necessary.

Design of milestones, follow up process, provide counseling, advice, mentoring and support for the whole process necessary to reach the goals and achieve success.

Reports on progress, review of previous assessment sessions, description of stages of development based on a graphic generated through vector math.
The Service is provided for:
.Strategic Management
.Start ups
.Project Management
.Self-Management
.Leadership
.Emotional Intelligence
.Matrix-Q Intelligence Test
.Burnout Preventive Training
.Stress Management
.Life Path Coaching
Booking Alternatives
Request a first assessment session, with a Priority Attention Ticket

The Priority attention ticket gives you the right to book a first interview information session of up to 45 min where a first evaluation of your needs will be made.  Rule apply: "First arrived, first served" after you have book the priority attention ticket, the first session will be schedule, according to coach availability. Please book now: http://paypal.me/foundationldmf/90

Contact us via web message or by email for a skype, telf. or chat information / presentation of our services session
Fees: